Olive Oil - Discover Its Many Benefits
Since time immemorial, olive oil has played a key role in civilizations around the Mediterranean sea. Did you know that the first use goes way back to five thousand years BC?
Consumption of the olives themselves goes back probably some more. The uses were also varied: from the traditional use in food preparation, to cosmetic uses (asa skin lotion, soap and moisturizer) and even religious ones, such as a substance to anoint or cleanse people and to fuel oil lamps and candelabra.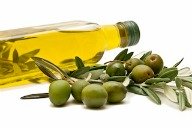 Having Fun With Olive Oil
Personally, I love the taste of cold-pressed extra virgin olive oil in salads and other food preparations. This site discusses the different grades and provides information that will help you choose the best quality product.
Regarding medical benefits, there is scientific evidence that suggests that eating two tablespoons per day may reduce the risk of coronary heart disease, by helping control LDL (the "bad" cholesterol) while increasing HDL (the "good" cholesterol), as well as by increasing arterial elasticity.
This amazing oil is also considered to lower the probability of gallstone formation, to decrease the incidence of colon cancer, to help control blood pressure, and to be beneficial as a slowing factor for Alzheimer's disease.
In addition to these health benefits, topical application and soaps are used for skin cleansing and moisturizing.