Olive Oil Recipes
Nothing is tastier in your extra virgin olive oil recipes than using extra-virgin olive oil in your cooking. It is the ideal oil for all your fresh salads, your dipping mixes, your pesto pasta and even for smoothies! We love this especially tasty recipe using extra virgin olive oil.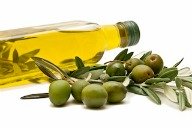 It's simple to prepare, and you can make it up in advance so that it's ready when you have unexpected house guests.
If you keep a few key ingredients on hand, simple stapes such as dry pasta of any shape, and fresh garlic, you will always be ready to make this recipe.
Olive oil cooking is healthy cooking!
Use this easy recipe to launch loads of fresh ideas, and easily prepare stand-by-favorites with a different twist ... call it the olive oil difference.
To whet your appetite, this is a simple yet delicious recipe:
3-garlic spaghetti recipe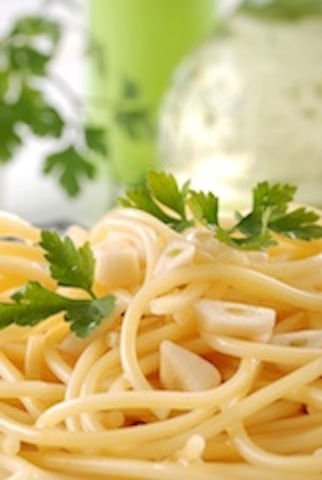 Ingredients:

1 Head garlic head
8 Garlic cloves
1 Pound of Spaghetti
2 Tablespoon Olive oil
¾ Cup Dry white wine
1 Cup Flat-leaf parsley; chopped
1 Teaspoon Red pepper flakes
Salt
Freshly-ground black pepper
Freshly-grated Parmesan


Heat oven to 425 degrees. Wrap garlic head in foil, or place it in a garlic roaster; roast until garlic becomes soft and golden, about 1 hour.

Let cool and trim tip of head; squeeze out cloves using the back of a knife. Transfer cloves to a small bowl, and set aside. Cook pasta until al dente. Drain, and run under cold water to stop cooking.

Thinly slice 5 cloves unroasted garlic. Finely chop remaining 3 cloves. Heat oil over medium heat in a large skillet. Add sliced garlic; toast until golden and crisp.

Remove garlic with a slotted spoon and set it aside. Add chopped garlic, and saute until translucent, about 1 1/2 minutes. Add roasted garlic and white wine; let simmer about 3 minutes.

Add pasta, parsley, red pepper, salt, and pepper; toss. Serve sprinkled with toasted garlic slivers. Grate cheese over each serving.
Makes 4 servings. Source: "Martha Stewart Living - (www.marthastewart.com)"
For other interesting olive oil recipes, see now...
Olive oil dip recipes
More olive oil dip recipes
Olive oil dressing and vinaigrette recipes
Greek salad recipe
Bocconcini tomato salad recipe
Pepper stuffed with ground beef recipe
Roasted sweet potatoes recipe
Pasta the lazy way recipe
Spanish potato tortilla
Olive oil basil pesto recipe
Summer pasta salad
Pizza topper recipes
Olive oil carrot cake recipe
Chocolate marble cake recipe
Cooking is something that often brings us back to our childhood memories, to our family traditions, to the wonderful smells and the tastes of our mother's, aunts' and grandmothers' baking and cooking. This is how a friend relates her special relationship to cooking.
Return to the top of olive oil recipes here

Please visit our Olive Oil home page with this link
Have A Great Olive Oil Recipe?
Do you have a great recipe that uses olive oil? Share it!