Olive Oil Carrot Cake Recipe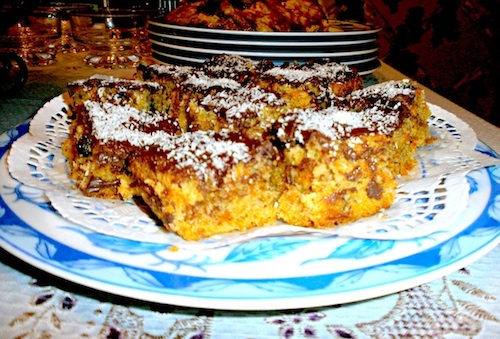 This is my mother's recipe, so I can really vouch for it. :-)


Ingredients:
1 cup of sugar
3/4 cup of olive oil

2 eggs
1 cup of general purpose flour
1 1/2 cup of finely grated carrots
2/3 cup of crushed nuts
1 teaspoon of baking powder
1 teaspoon of sodium bicarbonate
a touch of salt

square baking mold (9 inches)
In a bowl, mix all the dry ingredients. That is: sugar, flour, baking powder, sodium bicarbonate and a touch of salt.
In another (bigger) bowl, mix nuts, carrots, olive oil and the 2 eggs. Then, add the contents of the first bowl onto it and stir the mix.
Preheat the oven to 350°F. Put the mix into the baking mold (with no oil on it) and cook for 30-40 minutes.
Optionally, once cooked and cold, you can top the carrot cake with melted chocolate, grated fresh coconut or another sort of icing.

Baking with olive oil is fun ... Enjoy your carrot cake!

Please visit our Olive Oil home page with this link