Greek Salad Recipe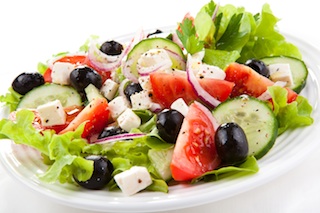 It's been said that I could have a fresh Greek salad plate with every meal!
Well, the thought of premium tomatoes, baladi cucumbers, green and red peppers, red onions, jumbo kalamata olives, Greek feta and extra virgin olive oil is simply mouthwatering. :-)
Ingredients:
6 on the vine tomatoes (Note: you can also mix on the vine and cherry tomatoes for extra flavor)
3 small cucumbers (Lebanese / baladi style)

1 green pepper
1 red pepper
1 onion (Spanish, white or red)
1 lemon

1/3 lb of jumbo kalamata olives
2/3 lb of Greek feta (ideally made with a mix of sheep's and goat's milk)

extra virgin olive oil
salt and pepper to taste

Wash the tomatoes, cucumbers, green and red peppers, and the lemon. Cut the tomatoes and both peppers in inched-sized pieces. Peel half of cucumbers in stripes and cut round pieces a quarter of an inch thick. Cut the onion in wedges and mix all the vegetables in a serving bowl. Remove the pits of the kalamata olives and add the to the mix. Crumble the Greek feta cheese on top of the salad. Squeeze the lemon so that the juice goes into it. Then, add the extra virgin olive oil, salt and pepper to taste, and do a final mix of the salad. Some people even add a touch of oregano.

You're now ready to eat a delicious Greek salad!

Please visit our Olive Oil home page with this link